ABOUT
PT CAST LABORATORIES INDONESIA
More than 250 accredited testing services spanning a wide range of materials from concrete to soil to asphalt premixes are available from us. We also have a Structural Diagnostics department that specialises in diagnosis of existing buildings, soil investigation activities and non-destructive tests of both concrete and steel.
Established in 2009, PT CAST Laboratories Indonesia is a leading independent testing and quality center, providing inspection and engineering services, certification to the oil & gas, shipyard, building & construction industries in Batam, Indonesia and the islands.
PT CAST Laboratories Indonesia is an accredited as an inspection body since 2013 under the National Accreditation Committee (Komite Akreditasi Nasional – KAN), in the field of Non-Destructive testing, and a certified TUV Rheinland company for the implementation of ISO 9001:2008. PT CAST Laboratories Indonesia is also registered members of MIGAS Indonesia and Apitindo.
PT CAST Laboratories Indonesia prides itself for its strong technical capabilities, to conduct testing with integrity, based on industry regulatory requirements and internationally recognized standards.
PT CAST Laboratories Indonesia provides professional testing and inspection services with our core values in mind – Integrity, Reliability and Unity.
OUR MISSION
We are committed to a safer environment through providing reliable testing and inspection services.
PT CAST Laboratories Indonesia
Trusted for Testing & Inspection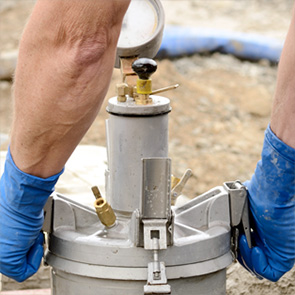 Concrete Cube Testing: Measurement of air content in fresh concrete